I like potato salad of all kinds. I grew up eating a simple German Potato salad made with potatoes, cucumbers, red onions and vinegar and oil, that my dad use to make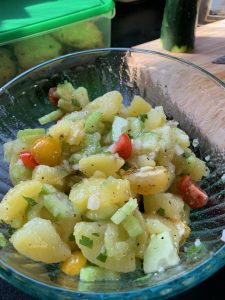 whenever there was a get-together of some kind. And then there's the other one, that typically came from the store, and was often at picnics. The yellow American one with a mayonnaise and mustard dressing, and maybe some hard-boiled egg and celery in it. No one in my family made that one, but I love them both. Those are the only two kinds of potato salad I know. I often wonder, why just two?
So I'm always on the look out for salads with potatoes. They're not typically on restaurant menus, and when they come as a side, it's usually some white thing with dill but no flavor. Often a deli will have something that looks tasty, but ends up being tasteless. One I see a lot looks like it's full of stuff you'd find in a baked potato: cheddar cheese, green onions, bacon…but with no real dressing, so it comes off as dry and just gums up my mouth.
I don't know what makes a good potato salad, but I've been trying to figure out a formula, and experiment with combining simple ingredients, to formulate something that I would crave, look forward to making and eating, the way I crave my father's German potato salad.
We were having sandwiches for lunch the other day, and I had some potatoes, cucumber, and celery I needed to use up, so I gave the following a try, and it was pretty good:
3 small golden potatoes
2 stalks of celery, diced
1/3 English cucumber, peeled, 1/2 moon slices
1/4 cup diced white onion
a few leaves of chopped Italian parsley

Dressing:
2 Tbl apple cider vinegar
4 Tbl olive oil
1 small garlic clove, finely diced.
Boil potatoes with skins on just until soft. Place under cold water, and remove skins. Cut the potatoes in half, and then slice. They were still slightly warm so I drizzled a small amount of apple cider vinegar on them to absorb while warm. After they cooled a bit more, I added the other ingredients, along with salt and pepper to taste. I also sliced a few small cherry tomatoes for color. I would have used red or green onion if I had any, but I was trying to get rid of the stuff I had – and this worked pretty well. It was enough for 4 people to have a single serving at lunch.
So the basic formula for this is: a few potatoes, some veggies you have laying around that you can cut in a way that suits your bite for the day (cucumber, celery, bell pepper, etc.), some type of onion, an herb of your choice, and a vinaigrette.